MoniLu baby carriers are soft structured, ergonomic carriers hand made in the Czech Republic. The production is sewn from special fabric-wraps designed specifically for ba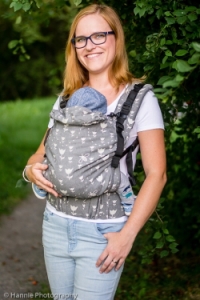 by wearing. The material used is flexible, very pleasant and gentle to the touch and perfectly adapts to the child's body. The texture of the wrap fabric ensures sufficient load capacity and durability of the carrier.
MoniLu baby carriers combine precise manufacturing with top quality materials (including infillings/ padding) that perfectly distribute the weight of heavier children. Together with the European certification it provides the highest safety while wearing your baby. Our primarily offer are adjustable, growing carriers suitable even for newborns till the age of five. One size carriers (custom made, tailored to your specific requests) are offered too. The used certified materials, elasticity of the wrap together with unique MoniLu design creates maximum support for the baby in all directions.
Adjustable growing baby carrier MoniLu UNI is suitable for babies from 2 months up to c. 2,5-3 years. In growing MoniLu UNI START you can carry even your newborn baby. The size of the carrier is simply adjusted by shortening the width and the height of the backrest. For active parents travelling on trips with their todlers, for whom long trips are more demanding, the MoniLu UNI PLUS, a baby carrier for children from 1.5 years up to 4.5-5 years, is suitable.
One size carriers – there is no need to adjust these carriers. Nowadays they are just custom made according to the order in several sizes (MINI, MEZI, MAXI and MAXI PLUS) corresponding to the height and needs of the baby. The smallest size MINI is for babies' c. 4 months old and is suitable till c. 18 months. Keep on carrying your baby then will mean to obtain a bigger size.
Entire used material fulfils all the requirements for medical harmlessness, safety and capacity up to 20 (30) kg.