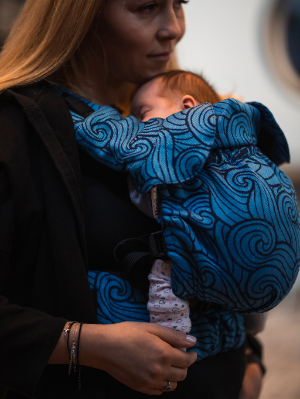 European Babywearing Week is an European event celebrating the beauty of babycarrying, which has been held annually in early May since 2017. This year, the organizers set the date for the week from 2 to 8 May, 2022.
The main goal of this event is to remember the great effects and benefits of what should be natural to us. Carrying children on the body is a great way to take care of children, overcome suffering, but also the boundaries that would otherwise remain closed with only a large stroller. It's amazing that babywearing is becoming part of the modern lifestyle.
The motto of this year is "Our carrying journey". The organizers encourage parents who already carry their children to share their story, photos, whether from everyday life or from some important event.
Various support events are held during this week to raise babywearing awareness - from festivals, regional group gatherings to events of carrying products producers / sellers. Of course, MoniLu will also be involved. You can look forward to discount events or competition, for example. So definitely do not stop following our Facebook pages where we will let you know everything in time.
European Babywearing Week is also an important anniversary for us. It reminds us of the time when MoniLu was founded and the first carrier was sold (May 2016) and then 2017, when we were happy to participate in the first EBW. We would like to take this opportunity to thank you very much for your support, for every single photo or message you send us and share with us your pleasures with the MoniLu carriers.
Yours MoniLu Team